We're kicking off Football Carnival Campaign to celebrate the most impressive moment this year
We're kicking off Football Carnival Campaign to celebrate the most impressive moment this year
We're kicking off Football Carnival Campaign to celebrate the most impressive moment this year
We're launching a reward program with $7,003 in HERA up for grabs!
This October, enjoy our special welcome offer as a thank you for choosing Roseon. Register and receive our special welcome bonus rewards. No KYC required!
Roseon now integrated with OKC, the L1 blockchain backed by one of the top market crypto exchange, OKX.
We are immensely happy to announce that both Roseon and Spinel Labs have formalized an agreement
We, at Roseon, are proud to announce that our platform has been included in the BNB Chain's Web3 Star Accelerator Vietnam program!
This time, Roseon will host the Zombie Warriors PvP Championship with attractive prizes that you can't miss.
Roseon Ventures is proud to announce our first investment in Magic Square, a project backed by Binance Labs.
After a rigorous selection process, 10 teams were selected as winners at this stage.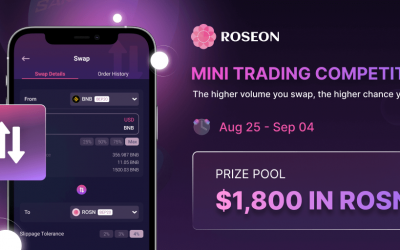 Simply make a trade with a minimum $100 trading volume in ROSN and hold an opportunity to be one of the best traders in this Mini Trading Competition!
Come and join us in our Ambassador program if you want to contribute in bringing Roseon to new heights!
Experience an in depth overview of the industries implementing blockchain, and build a business the market needs.
Roseon and MetaFighter have partnered to keep our users' wallets full with the $13,116 in MF reward.
Digital characters or avatars using computer graphics (CGI) is basically what a Virtual Influencer is.
Roseon and Cowboy Snake have partnered to keep our users' wallets full with the $48,863 in COWS reward.
Want to hang-out with your friends at Starbucks? Pay with $ROSN. Thinking of buying that new item on your favorite game? Buy game credits with $ROSN. Planning for your next travel destination? Book your hotel and flight with $ROSN.
In this July, enjoy our special welcome offer as a thank you for choosing Roseon. Register and complete Identity Verification (KYC) to qualify for our special welcome bonus rewards.
We're giving our community the chance to start their journey to becoming a "Billionaire Plus" with Roseon App's mini-games and features.
We are launching a rewards campaign with $9,000 in HDV to be given away!
his June, we partnered with Chumbi Valley to provide our users with $78,000+ rewards.
Users can now purchase supported cryptocurrencies using their credit cards or Apple Pay.
Our VIP tier system aims to promote loyalty to $ROSN by rewarding our holders with varying benefits.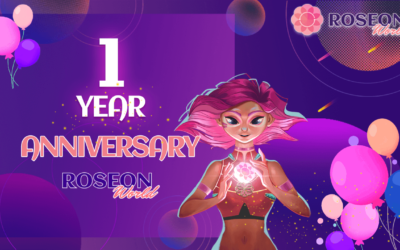 Uncover the secrets of the Roseon Team on how we from being a CeDeFi bridge, to becoming an all-in-one crypto mobile app.
With this new partnership, we're giving our community members a chance to earn passively by taking advantage of WonderApp's mini-games and farming options.
Sugar Kingdom is the best sugar rush experience that RoseonPad launched this 2022. Fill your portfolio with the colors of a rainbow lollipop by participating on our partner activities.
Roseon WonderApp, a licensed mobile crypto app that integrates CeFi and DeFi services within a single interface has announced a significant token burn as part of their commitment to community members, early backers, and investors.  In anticipation of its one year...
We are thrilled to introduce an exciting content initiative with play-to-earn and Metaverse data directory UpOnly.
Join +20,000 daily players in this exciting soccer game, get out on the field, show off your skills and win tournaments in-game!
This October, enjoy our special welcome offer as a thank you for choosing Roseon. Register and receive our special welcome bonus rewards. No KYC required!
#RoseonGaming #FreeToPlay
On Sep 8th, 2022, our core team had the live discussion with the community.
I'm a newbie who gets nervous around complicated things, so I'd prefer something simple and easy to use.
As of this writing, our token price is down by 85%. On the brighter side, Roseon is in a better situation than ever before.
Before applying for any course or university, we'd often hear statements like 'Follow your dreams' or 'Choose a career that will get you rich'.
Last May 27th, we held a live AMA session where Roseon Core Team members, answered questions from the Global Telegram community.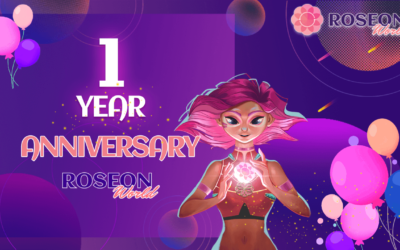 Uncover the secrets of the Roseon Team on how we from being a CeDeFi bridge, to becoming an all-in-one crypto mobile app.
The Marketing Team is responsible for promoting Roseon's business and mission. Working behind the CEO, the marketing team also acts as the company's public face.
Despite the erratic bear market, Roseon's developments and activities are pushing towards our goal to become the #1 crypto & NFT app in Asia.
During the beta testing phase, we will also run the 'Shoot Your Way to Success'. Users will compete for a separate leaderboard
Our mobile application was recently rebranded into Roseon WonderApp and we'd like to reward our new and current users with exclusive gifts.
Come and join us in our relaunched Ambassador program if you want to contribute in bringing Roseon Finance to new heights!
Roseon Finance sits at the heart of all of these projects – being a mobile-first, all-in-one application to bring CeFi, GameFi, and NFT features into one application.
They say that success tastes much better when shared, and Roseon Finance wouldn't have had a successful year without our very supportive community.
The year is about to wrap, but Roseon Finance is just getting started.
The first week of November is coming to a close, marking another month full of flurries of activities here at Roseon Finance.
With the final quarter of this year finally started, we at Roseon Finance look back and realize that we have come a long way in a very short time.
Ariel was just like any other teenager. A young woman from an average background, she wanted to be a success in her life.
You will receive rewards for each successful referral.
We are hiring a Research Analyst to analyze and predict trends, pricing, demand, and trading volumes of crypto and DeFi projects.
Despite the impact of COVID-19, we have achieved steady growth last month, acquiring 27,000+ downloads and 16,000 users.
We're looking for a talented self starter who can help us lead business develop and a team of CMs.
Roseon Finance is launching "Stake, Earn & Draw" Campaign with a prize pool of 5,000 ROSN.
Roseon Finance is launching the "Buy, Deposit & Draw" Campaign with a prize pool of 5,000 ROSN.
The market is recovering and this is a chance for us to grow, increase user engagement and …
Web 3 has been here for quite a while; it's not a decade old but has created a lot of buzz among investors and big institutions.
Not only do celebrities support NFTs, but now even the most prominent chains and real-world brands have started getting their foot in the game.
The crypto markets have crashed hard, there's much panic among the investors, and many people are seeing their first bear market.
This article will discuss 5 strategies that you can use to make the best out of this down-trending market and help you maximize your gains.
In this article, we'll be looking at Play-to-Earn Games – what they are, and how you can use them to turn your gaming hours into a real investment.
What is the hype about NFTs, and why are people insanely spending millions of dollars on digital collectibles? Let's find out.
With the crypto industry expanding without an end in sight, projects are increasingly dependent on different platforms that allow them to connect with potential backers and early investors.
Would you believe that a 3D rendered character made of pixels earns over $12 Million on social media! Sounds crazy, right?
A virtual world where people use digital avatars to work, play and live online. He called it the Metaverse.
This is a detailed guide explaining the process of how to participate in any RoseonPad IAO (In-App Offering) for Allocation round and FCFS round.
If you know about the virtual hoodie that was sold off for $26,000, you must have at least wondered once that what's this all about?
"Learn To Earn" is the first Blockchain quiz contest driven by Roseon Finance. Through t…
Non-Fungible Tokens (NFT) have recently emerged as a revolutionary innovator in the world of art.
When traveling in Southeast Asian countries, you will definitely experience a culinary culture full of local identity and style.
We launched Roseon Finance to solve exactly one problem: decentralized finance (DeFi) offers users a good rate of return on
These included the limited number of LP pairs, pool sizes, and even the process of becoming a liquidity provider seemed to be a bit of complexity.
Initial NFT Offering (INO) is a new type of crowdfunding platform in which the NFTs are sold at the early stage of the project for a stipulated period.
Users can now purchase supported cryptocurrencies using their credit cards or Apple Pay.
Zombie Warrior is a P2E Game built within the WonderApp. It is connected to the storyline of the WonderLand metaverse that we are building.
After Space Falcon's successful private sale on RoseonPad, we are partnering with them again to bring you staking options to maximize the potential of your tokens.
This 2022, Roseon Finance is proud to announce our application, now rebranded as Roseon WonderApp, has undergone a complete overhaul to make it more user-friendly.
As we celebrate the Chinese New Year this 2022 that the Water Tiger signifies, our VIP Tier system will be roaring with its new update.
We are adding two major updates to the Roseon Finance ecosystem under our Engage-to-Earn (E2E) system: a Game Center and our own Roseon Wonderland metaverse
Roseon Finance has partnered with Torekko for a set of activities to start a new and flourish the new $TRK contract.
QuickSwap is an AMM similar to UniSwap built on Polygon (formerly MATIC). See the guide below on how to join LP Quickswap Farming Pool on Roseon App.
In celebration of the successful token sale, Roseon Finance and Battle Saga have partnered up to provide a new staking program. Join us and share over $70,000 rewards!
After Chimeras's successful INO and recent NFT distribution, our month will be even merrier with the activities and $62,655 reward pool they have prepared with Roseon.
Get ready for some space exploration action because Graviton Zero will take us to a brand new Nemeni Universe for us to discover. Join us on this journey and get a chance to win over $90,000 rewards!
In celebration of the successful token sale and release of the Alpha Marketplace, Roseon Finance and Billionaire Plus have partnered up to provide our Billionaire-wanna-be's more chances to earn more $BPLUS.
Come and join the campaign prepared by Roseon Finance and Playermon for the Anchorland launch. Start the saga of your journey as the Captain of Starsailor and save the Playermon citizens.
We're taking a backseat on our first exploration as we passively grow our scrap yields. With these farming pools, you can earn more stake $ATK.
To celebrate the partnership with Polkawar, we have listed $PWAR token and would like to introduce exciting activities.
Roseon Finance has listed $AI token and would like to introduce the Trade & Draw and New Savings Pool.
Roseon Finance has listed $NAKA token and would like to introduce the Savings & Farms, and Lucky Draw program for our users.
In line with this strategy, Roseon Finance is proud to announce that it is offering a Swap feature on its mobile app.
It's the feature that you've been waiting for: Roseon Referral Program. You'll be able to earn 5% commission in the rewarded tokens every time someone you invite farm on Roseon App.
Roseon Finance lists the POLO and POLO-BNB LP tokens, and introduces the LP Staking with Dual Rewards.
People love staking and earning all the time. This is the reason that last month we launched ROSN/BNB Pancake LP Pool
In its effort to keep expanding financial opportunities to its users, Roseon Finance is proud to have partnered with Yellow Road,
Roseon Finance Mobile App is continuously upgraded to a new version. So if you use the iOS operating system, and want to always
We have identified some issues with the recent LP Token integration in Roseon Mobile for iOS. While the development team
Roseon đã tổ chức thành công buổi Workshop Offline đầu tiên vào ngày 25 tháng 8 vừa qua ngay tại Văn phòng của Roseon tại Việt Nam.