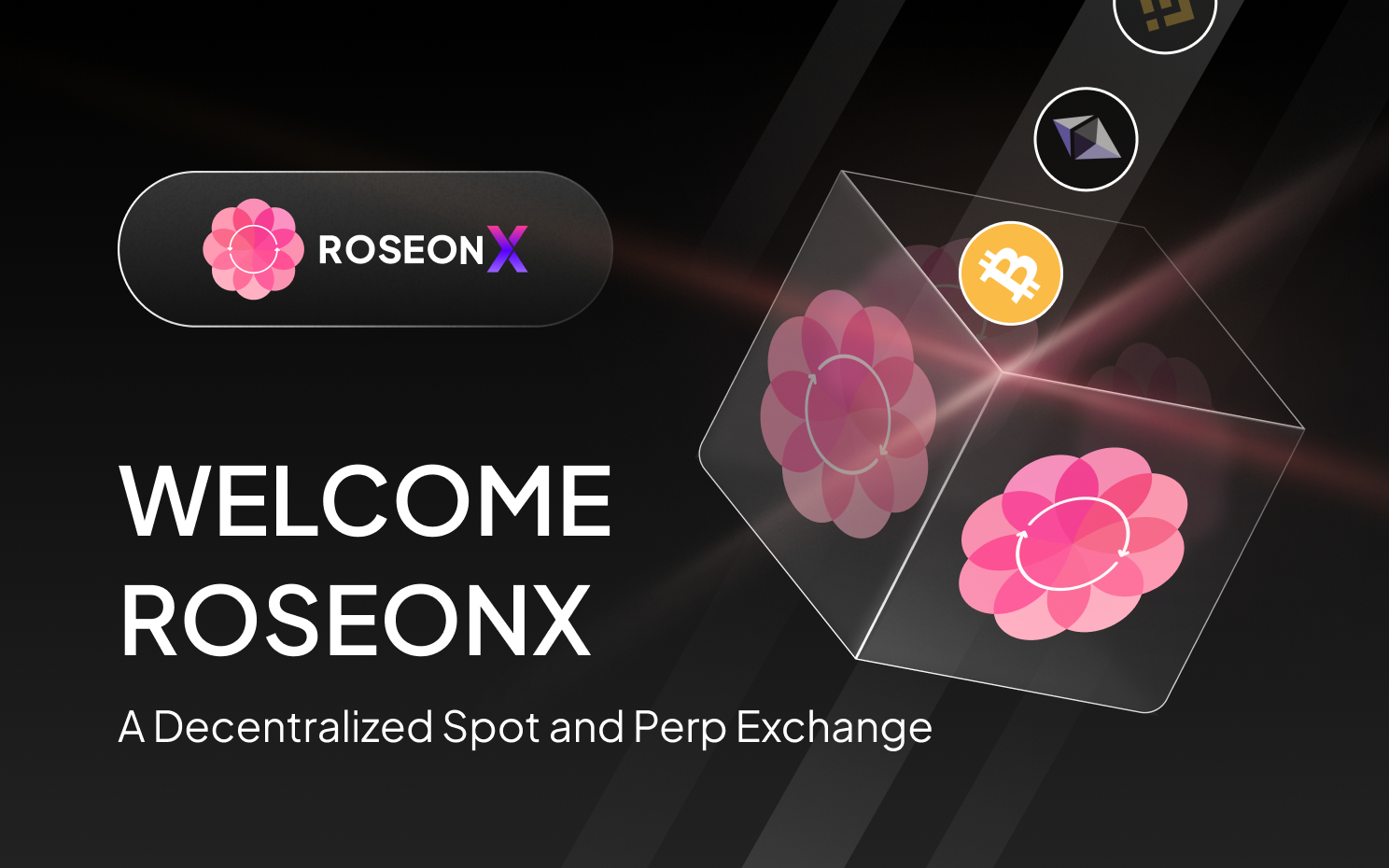 A lot has been happening in the crypto space since the bear market started in November 2021. We have witnessed the collapse of big platforms like FTX, high-yield DeFi protocols like LUNA, big VCs like 3AC, and many others.
Recently rumors of DCG and Genesis being bankrupt have been floating around.
With all these negative sentiments flowing in the market, it is not difficult to say that the coming days for investors and retailers will be harsh.
We care about our users, and we want to take a step in the direction of safeguarding our users, their funds, and their trust.
With the recent developments and FUD going in the markets, Roseon has decided to expand its ecosystem.
We want to bring more utility to our native token and give more power back to the community and our users.
THE ROSEONX EXCHANGE PLATFORM
Everyone knew Roseon Mobile as a one-stop crypto lifestyle app with LaunchPad, DeFi, and Play-To-Earn Games till now.
But now we have decided to launch our decentralized exchange platform, RoseonX.
We are not doing it for our own motives; decentralized exchanges are the need of the hour. Users have lost confidence in centralized exchanges after the FTX collapse.
If you think rationally, would you want to put your funds in a centralized exchange where you lose all your funds if something happens?
DEFINITELY NOT.
It happened during the FTX collapse; many investors lost their money and still struggled to get back their hard-earned money.
If you move further back, what happened to LUNA? Millions of users who invested because of the unsustainable high DeFi yields were REKT.
Decentralized Exchanges (DEXs) are the future. Here's how the RoseonX will benefit you:
1. Self Custody Of Your Assets
Not your keys, not your crypto, is the general rule of DeFi.
DEXs are non-custodial and stick to this idea, allowing users to exercise self-custody.
In a nutshell, The RoseonX users will have 100% control of their private keys and hence actual ownership of their assets.
This means no one can freeze your account or run away with your money.
2. Reduced Transaction Fees and Quick Trade Execution
Decentralized exchanges minimize the need for intermediaries, resulting in lower total transaction costs. With the AI trading bots and delegated wallet technology, trade executions can be automated and are super fast.
3. Less Censorship
Users benefit from privacy and anonymity since decentralized exchanges do not need clients to fill out know-your-customer (KYC) forms. Because DEXs are not censored, more cryptocurrencies and digital assets are available than through a CEX.
In reality, several Altcoins are exclusively accessible on DEXs.
Advancements For The Future
We want to be completely transparent with our community.
Due to the high demand for DEX, if we take this opportunity to build a helpful and practical DEX for the community, we can cater to the masses, and that'll help Roseon to generate more value and revenue to the community.
We want everyone to benefit from this crypto revolution and simultaneously build a long-lasting business.
The community will get a fully decentralized exchange with spot and derivatives trading with leverage up to 50x, and with the number of users in our database, a lot of our users and other crypto enthusiasts will be able to safeguard their funds.
The Roseon Ecosystem
Roseon Mobile will remain the DeFi aggregator, with forthcoming integrations with additional derivatives trading platforms such as Ribbon Finance, DYDX, lending integration with Aave, but its top priority is integration with RoseonX services to extend the RoseonX trading platform to mobile users.
A complete end-to-end service platform
With the introduction of RoseonX improves Roseon's business model by providing a complete end-to-end service offering. Starting with incubation, token launch, to providing token utility through staking and gaming, and lastly, offering token listing and liquidity management services.
The $ROSN token will be replaced with a new governance token, $ROSX, with new tokenomics to reflect the added services to the ecosystem.
Do not panic if you hold $ROSN tokens; your funds are safe and will be converted into $ROSX when it is launched.
The primary goal of $ROSX is to strengthen our core foundation and build a community of loyal users through the DAO.
We'll provide you with the new tokenecomics and migration details for $ROSX in the coming weeks.
Technical Roadmap
As you know, we consider our users when we make big decisions.
Moving forward in 2023, we aim to:
Migrate from $ROSN to $ROSX
Alpha Release the DEX with liquidity programs and exchange
Launching liquid staking pools
Improved user experience features such as trailing stop-loss, AI trading bots and delegated wallet for fast trade execution
Below is a snapshot of the RoseonX roadmap for 2023.
To Summarize
We understand this is big news for our users. However, as the industry is still evolving, we must keep ourselves updated with the latest trends to maintain users' trust and safeguard them in adverse situations.
This shift towards DEX is one of those steps that we have to take for the betterment of everyone. As a byproduct of this cause, we'll be able to make Roseon sustainable in the long run.
The essential point is that DEXs provide all of the same services as centralized exchanges, but anonymously and in a trustless manner.
We'll keep you updated on the progress.
Till then, join our upcoming allowlist for $ROSX.
About Roseon
Roseon is your one-stop crypto lifestyle app with LaunchPad, DeFi and Play-To-Earn Games. We got selected as one of the Top 9 stars in BNB Chain Web3 Stars Accelerator Vietnam.
Roseon is the entire ecosystem covering Roseon's developments in simplifying our users' crypto journey. Our one-stop solution to all crypto needs is accessible via mobile or web, and with our metaverse – WeeeLand Social. Our intuitive but user-friendly UI eases the adoption of newcomers to our ecosystem.
Website | Twitter | Litepaper | Telegram | Discord | Facebook
Roseon has overcome all the obstacles and set new achievements in 2022.
To celebrate the launch of new WeeeLand Social & $WEEE token, we are excited to open Refer & Earn event exclusively for Roseon users.
After making a series of developments over the last few years, Roseon has come up with something interesting for its users again.