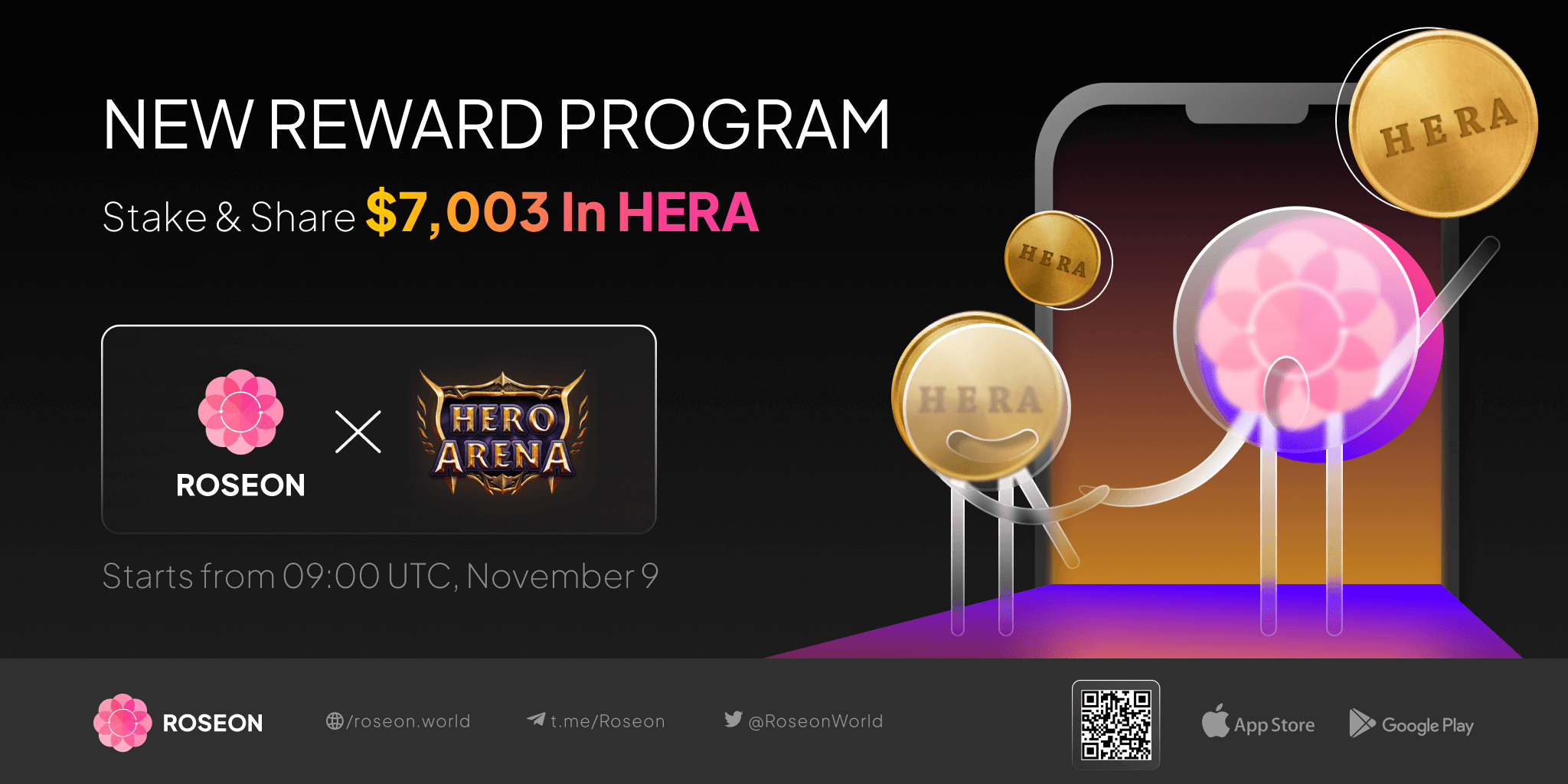 Hero Arena is a multiplayer NFT RPG game inspired by DOTA architecture that combines advanced blockchain technology and decentralized finance features to create an unprecedented experience. We're launching a reward program with $7,003 in HERA up for grabs!
STAKE AND DRAW
Our Stake & Draw spins a gamified 🎲 essence to the classic staking mechanics. Subscribe your $HERA for a chance to win in our lucky draw! A total of $1,000 will be awarded!
Subscription Period: 7 days (From November 9th 09:00 UTC to November 17th 00:00 UTC)
Users can stake their tokens from the start of the subscription period. No staking or mining rewards will be generated during this period.
Locking Period: 30 days (From November 17th 00:00 UTC to December 17th 00:00 UTC)
During the locking period, the staked assets will be locked for the duration of the term and committed, and no staked rewards will be redeemable in advance prior to the end date of the locking period.
LOCKED STAKING
Protect your assets during the bear market and earn passively with our $HERA locked staking.
Locking period: 90 days
Fixed APR: 70%
Start Date: November 9th 09:00 UTC
$ROSN FARM
Secure your VIP levels and benefits by subscribing your $ROSN to farm $HERA.
Deposit: $ROSN
Earn $HERA
Start Date: November 9th, 2022 09:00 UTC
End Date: January 8th, 2023 09:00 UTC
Higher flexible rewards
We're kicking off Football Carnival Campaign to celebrate the most impressive moment this year
This October, enjoy our special welcome offer as a thank you for choosing Roseon. Register and receive our special welcome bonus rewards. No KYC required!
Roseon now integrated with OKC, the L1 blockchain backed by one of the top market crypto exchange, OKX.