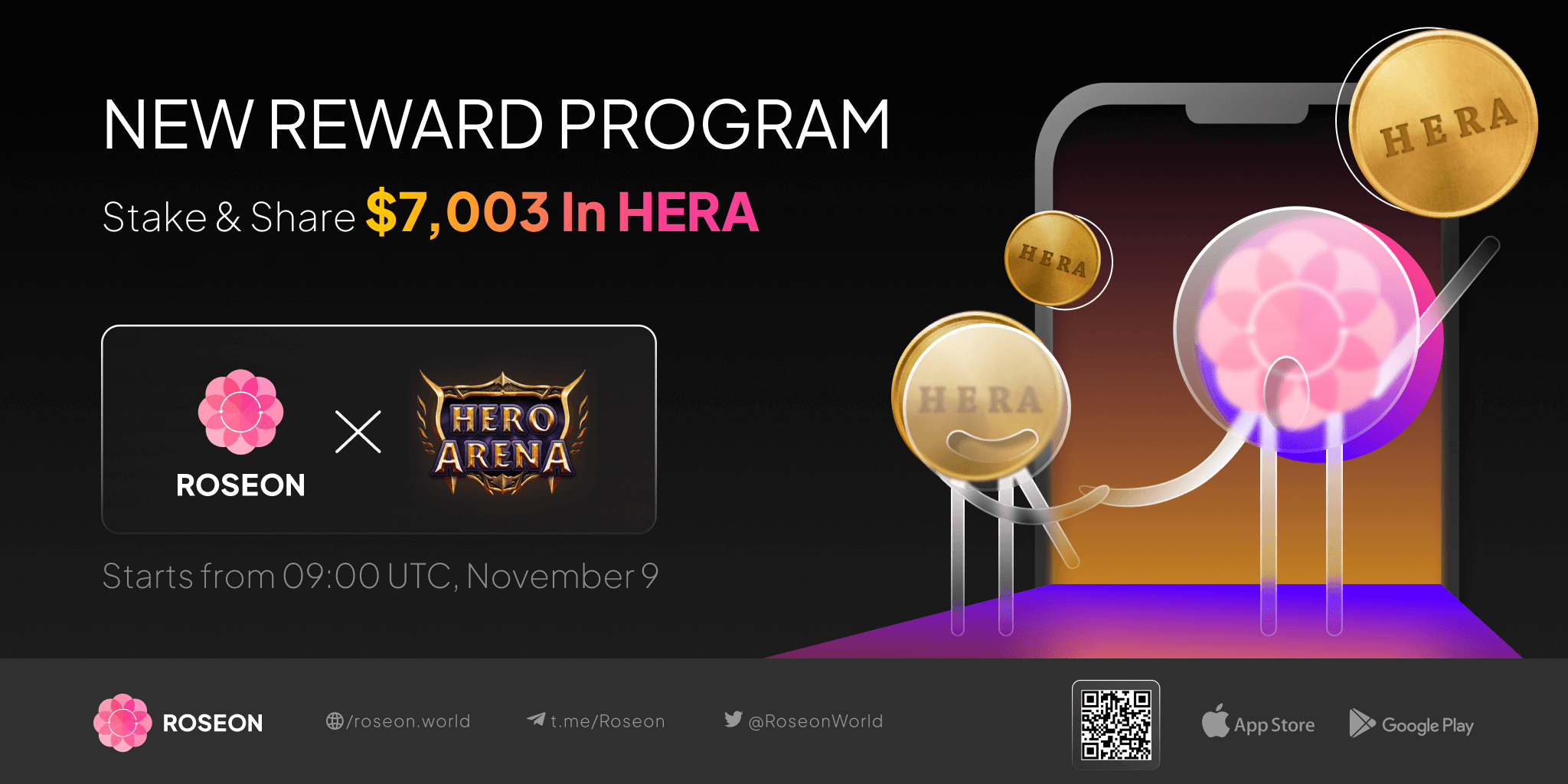 Hero Arena is a multiplayer NFT RPG game inspired by DOTA architecture that combines advanced blockchain technology and decentralized finance features to create an unprecedented experience. We're launching a reward program with $7,003 in HERA up for grabs!
STAKE AND DRAW
Our Stake & Draw spins a gamified 🎲 essence to the classic staking mechanics. Subscribe your $HERA for a chance to win in our lucky draw! A total of $1,000 will be awarded!
Subscription Period: 7 days (From November 9th 09:00 UTC to November 17th 00:00 UTC)
Users can stake their tokens from the start of the subscription period. No staking or mining rewards will be generated during this period.
Locking Period: 30 days (From November 17th 00:00 UTC to December 17th 00:00 UTC)
During the locking period, the staked assets will be locked for the duration of the term and committed, and no staked rewards will be redeemable in advance prior to the end date of the locking period.
LOCKED STAKING
Protect your assets during the bear market and earn passively with our $HERA locked staking.
Locking period: 90 days
Fixed APR: 70%
Start Date: November 9th 09:00 UTC
$ROSN FARM
Secure your VIP levels and benefits by subscribing your $ROSN to farm $HERA.
Deposit: $ROSN
Earn $HERA
Start Date: November 9th, 2022 09:00 UTC
End Date: January 8th, 2023 09:00 UTC
Higher flexible rewards
DOWNLOAD ROSEON MOBILE APP
Google Play: https://play.google.com/store/apps/details?id=roseon.finance
App Store: https://apps.apple.com/vn/app/roseon-finance/id1559440997
Web app: https://app.roseon.finance/
ABOUT HERO ARENA
Hero Arena is a Metaverse RPG Game built on blockchain technology, inspired by DOTA. It is a futuristic world with 2 different factions, each with its own strengths and weaknesses. Players can recruit heroes which then can be used to progress in the campaign mode and fight against the enemies. In combat, arena players can earn profit from their enemies.
Website | Twitter | Telegram | Discord
ABOUT ROSEON
Roseon is your one-stop crypto lifestyle app with LaunchPad, DeFi and Play-To-Earn Games. We got selected as one of the Top 9 stars in BNB Chain Web3 Stars Accelerator Vietnam.
Roseon is the entire ecosystem covering Roseon's developments in simplifying our users' crypto journey. Our one-stop solution to all crypto needs is accessible via mobile or web, and soon, with our very own metaverse. Our intuitive but user-friendly UI eases the adoption of newcomers to our ecosystem.
Learn more about us: Website | Twitter | Whitepaper | Telegram | Facebook
Calling all crypto enthusiasts and traders! Brace yourselves for the thrilling RoseonX Trading Point Battle! Gear up, fasten your seatbelts, and unleash the trader within you to claim your spot in this epic battle for glory and seize the chance to win a share of $2,000 worth of ROSX!
It's time to get involved!
RoseonX Beta Public Testnet is around the corner, and we're thrilled to launch PnL Trading Competition with a prize pool of up to $4,000 in ROSX
July was a month filled with progress, exciting developments, and strategic planning, all aimed at ensuring a successful official beta launch.