People love staking and earning all the time. This is the reason that last month we launched ROSN/BNB Pancake LP Pool with a dual rewards program to support the ROSN token liquidity and give back to its loyal community members. With this program, liquidity providers can stake their LP tokens in Roseon Mobile and earn double rewards. Article
How to join LP Pool
1. How to obtain tokens
Buy ROSN tokens on PancakeSwap or on Kucoin Exchange
Buy BNB or BUSD tokens on PancakeSwap or Binance
Buy CAKE tokens on PancakeSwap
2. Add liquidity to the Pool on Pancake
Type the amount of token you want to supply, click Supply and Confirm Supply.
Go back to your MetaMask wallet, click on Assets, scroll down and click Add Token.
Paste token contract address:
ROSN/BNB: 0x5548bd47293171d3bc1621edccd953bcc9b814cb
CAKE/BNB: 0x0eD7e52944161450477ee417DE9Cd3a859b14fD0
BNB/BUSD: 0x58F876857a02D6762E0101bb5C46A8c1ED44Dc16
EMT- BNB: 0xDDB2D8329855FEd990C62917Ef791b32F22eF3e2
Click Next and Add Tokens.
Now you will be able to see your LP tokens in your MetaMask wallet. Remember they are BEP20 tokens, for the Binance Smart Chain
3. How to farm your LP tokens in Roseon App to earn dual rewards
In Roseon App, copy or note down your LP address
In Metamask, send your LP token to the Roseon LP address
In Roseon app, click on Invest and click Farm on LP Pool
In Roseon app, enter the amount that you want to farm, click Farm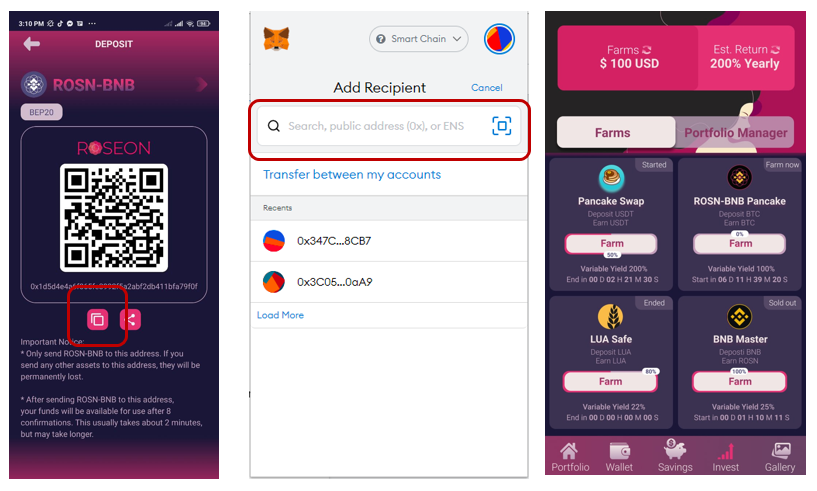 Notes:

To participate in the Roseon pools, users stake their tokens within the app before the start date/time.
Once deposited into the pool, the tokens will be locked for the entire term. Rewards are accumulated and claimed at the end of the term.
5% Management Fees (APR) are deducted from rewards, staked tokens and rewards are distributed back to the users
All deposits are locked in and reward earnings begin 00:00 UTC +7 after the subscription period. The reward will be distributed 24 hours after the pool ends.

Download the Roseon Mobile App

Android: https://play.google.com/store/apps/details?id=roseon.finance

iOS (Testflight): https://apps.apple.com/vn/app/testflight/id899247664

How to setup Testflight: https://roseon.medium.com/ace27ac6afe6

About Roseon Finance

Roseon Finance ($ROSN) is a mobile yield aggregator that manages your crypto + NFT portfolio and optimizes yield across DeFi and CeFi networks. Acting as the gateway to DeFi, Roseon Mobile is a crypto finance app that is available on both Android and iOS and was built to help onboard new users to DeFi with its customer-centric design. Roseon has its own utility token $ROSN, with a total supply of 100 million, which is used for staking, transaction fees, and participating in tiered products and services on its mobile app.
We're kicking off Football Carnival Campaign to celebrate the most impressive moment this year
We're launching a reward program with $7,003 in HERA up for grabs!
This October, enjoy our special welcome offer as a thank you for choosing Roseon. Register and receive our special welcome bonus rewards. No KYC required!